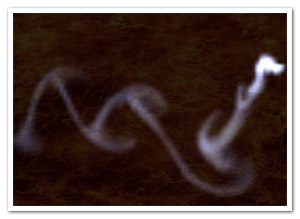 The third pass at smoke/fluids simulation again looks quite different from the previous two attempts, but this time it's stable both when keeping still as while moving. Not surprisingly, as the current approach is more like Stam's fluid solver. The downside is that it's much less processor-friendly: every new step (adding forces, diffusion, advection, updating boundaries, …) needs the previous step to be completed over the entire velocity or pressure field. As a result, this simulation is using 9 different Pixel Bender kernels. In total, 49 pixel bender filters are executed per frame, some more intense as others, along with some BitmapData methods. Consequently, the grid size needs to be scaled down a lot  (64×128 in the example). All in all, I'm still surprised that it doesn't slow down to a crawl!
The FluidBitmap class has some properties such as timeStep, buoyancy and viscosity, which can influence the look and tempo of the fluid, but can affect the stability of the solver due to precision errors using BitmapData. There is support for forces, encoded in a BitmapData, similar to the velocity field (red = x, green = y). Maybe some day, I'll make working with these forces a bit easier, but for now I'll focus on other things than fluids ;) 
The demo – A smoke simulation using positive buoyancy. Click to show the red and green channels representing the velocity field.
Oh, and a happy new year! :)