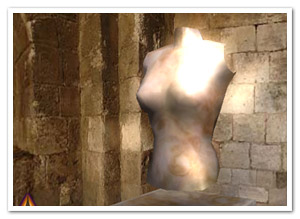 If you've played any video games the past few years, you've definately seen the HDR (High Dynamic Range) effect. Creating a more brilliant colour spectrum, it's both popular in photography and 3D rendering. In games it typically enhances the brighter areas and makes light spill over into darker areas (the so called light blooming effect). Using some settings, it can also create a more blurry atmospheric surrounding. Being a big game fan (or rather gfx-fetishist), it's an effect I've always wanted to do. Using a tiny Pixel Bender kernel and some Flash filters, I came up with this.
A demo showing the effect and its parameters on a simple image can be seen here: Demo | Source .
But let's face it, when doing HDR, we want it in 3D ;) Rob Bateman kindly gave me permission to use his shader demo for Away3D (a 3D engine I'm growing more and more fond of). This demo in particular suited the use of HDR perfectly, so many thanks! I just added the HDRContainer class to the stage, setting the View3D as the target, and voila!
See HDR in Away3D (compare with the original to see the difference)
No source for that one tho, as 1) it's not my demo (apart from 2 extra lines of code), and 2) it's pretty much the same as the first demo :)
It should be similar to use the effect on any DisplayObject, for that matter: pass it through to the HDRContainer's constructor and add the HDRContainer to the stage.