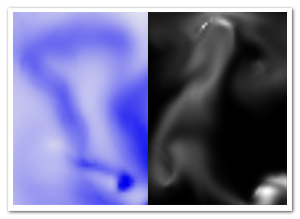 Thanks to Ralph Hauwert's blogpost pushing a baffling >300.000 particles using Alchemy, I finally got the much needed motivation to try out Alchemy myself. To be able to get started asap, I decided to return to something I've done before: fluid and smoke dynamics, but with a different algorithm (see Mike West's article on Gamedev). It took me a while to figure it out, but it's up an running! It's a faster algorithm, but less physically correct.
While I typically would do most of these kinds of calculations in Pixel Bender, for the examples below, I decided to try it all in C and see how far Alchemy can be pushed. The grid is bigger than before, while the framerate is steady around 20 on my machine. Ralph has suggested some improvements for the rendering step already (thx! ;)), so I'll have some more experimenting to do :D
It was great to return to C, especially since it's been 8 years since I've written my last line in that language. Quite a rush of nostalgia!
Source is included with the demos, tho it's not the most reusable I've ever written :)
The HiRes FPS counter is done by Mr. Doob.