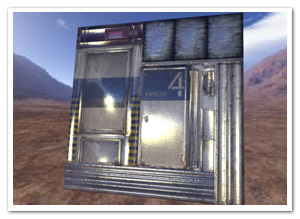 Last week I posted an example of Environment Mapping using FP10's native 3D and Pixel Bender. The reactions were quite positive, which motivated me to push the concept a bit further and create more shaders using Pixel Bender. These new additions all work in the same fashion, ie. as Filters which need to be updated whenever the target object (or if provided: light position) changes.
I created a project on Google Code for this, dubbed Stok3d (as I was positively stoked at that specific point in time). It's a mini-library at this point, but in the future there's potentially more to it than shaders; Z-sorting for instance: although it has been done already, it wouldn't be a bad idea to create something specifically for Stok3d and have more functionality in one place. But… zat's for ze futuah! At least for now, it will be easier to commit bugfixes and updates.
Demos
In the order from low cpu usage (and less visually interesting) to high cpu usage (and more interesting):
* Although Stok3d is distributed under the GNU GPLv3 license, the textures are NOT covered by this license. In particular, the blast door and hangar door textures, normal maps, and specular maps are made by Florian Zender (http://www.florianzender.com) and are used with his kind permission. Check out his work, it's quite impressive! :)
Source
The source for the examples as well as the library can be found on Google Code. It's available over svn or as a downloadable archive.