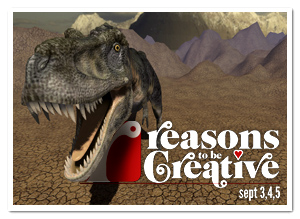 Oh boy, it shames me to see my last post has already been from December last year! Not that I haven't been keeping busy; some binned personal projects, some that aren't quite "there" yet, and a 3-month stint near San Francisco (what a city!). So yes, I'm happy to have a reason for another update, and what a Reasons it is!
After presenting at the awesome Flash on the Beach last year, I have the unexpected honour of having been asked to come back for another round this year with the conference being restyled as Reasons to be Creative. Sweet! My session this year is called "A Trick of Light", and will primarily deal with 3D shading: simulating lighting for 3D rendering. I touched upon this subject briefly last year, but I felt such an interesting subject deserves full-time attention. I'm working hard on explaining things in an intuitive way, something many books forget to do, while still providing some maths. Just a little and in a very unrigorous way, so don't be afraid if you're a mathophobe ;) I won't be digging into any actual code as I find that relatively pointless compared to understanding the actual concepts. Furthermore, I wish to present these in as much a platform-independent way as possible. However, all my examples will obviously be built using Away3D and I'll be plugging that now and then, or what did you expect ;)
The line-up is looking great again this year and I'm glad to see many friends represented in the speaker list! Check out  the likes of Rob "I like turtles" Bateman, Frank "wob-wob" Reitberger, Eugene "buy-me-a-beer" Zatepyakin, Joa "who needs semi-colons anyway" Ebert, Jon Howard, Andre Michelle, Mario Klingemann, et al… Do yourself a favour and don't miss it! I myself am looking forward to hanging out with old and new friends and get some inspiration shots, so do come over and have some beers with us!
Well, it's time for me to lock myself up inside again with some 80s thrash metal and get that presentation done! See you all in September!