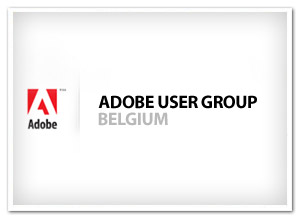 The summer holidays aren't even over yet and September already seems like it's going to be a great month! Apart from the fact that I'm going to Flash on the Beach, there's also something for us Belgians that's a bit closer to home: the annual Adobe User Group meeting & barbeque on September 12th! And as it happens, I'll be speaking there alongside much more impressive names as Seb Lee-Delisle and Niqui Merret :)
What to expect? Here's my session description:
"In his session, David will walk through some of the experiments and projects he has done over the past year while elaborating on the concepts behind them. Without getting too technical, he will explain his motives, his love affair with Pixel Bender and the big looming question: "Mmkay, but what's the use?". Using experimentation as the main thread, he will try to show how going off the beaten path can take you to sweet little places you didn't expect, and finally, offer a sneak-peak at some of the more useful projects he ended up doing as a result."
In short, since it's my first public session, I figured I would give a bird's view of my philosophy concerning after-work development, and show some cool things I have in the pipeline at the moment (so even if you follow this blog, there'll be something new to look at ;) ).
Don't forget to register here if you want to come (and gloat) – and if you do, I'll see you there!