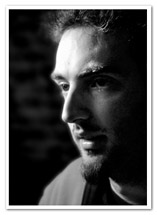 I'm David Lenaerts, a freelance Actionscipt 3 (Flash/Flex) developer with a strong preference for visually applied mathematics and physics. When I'm not coding, I'm a wanna-be music composer, although that has been rarely the case lately, and video game enthusiast (though I must admit, mainly for the graphics).
I'm always on the lookout for challenging and interesting projects, so feel free to contact me!
In closing, in case you're wondering, "Der Schmale" is a reference to the 1927 epic Metropolis, which has one of the coolest film posters. Ever.
(picture by Bert Heymans)