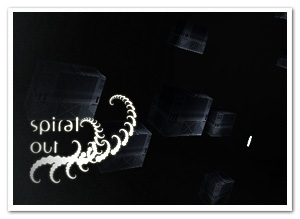 A few months ago, Simo Santavirta (aka simppa.fi, aka jac) from EvoFlash invited me to do some effects for a demo they were planning to release at Assembly 2010. I hadn't actually done anything for the demoscene before, but how could I say no; it's Assembly, home of Second Reality! (and I do believe there was beer involved at some point). The category was "Real Wild", which basically means "demos for any platform that can run real-time graphics", including Flash. And… We ended first! Champagne for all!
Linkage
Demo building for the creatively challenged
Before I start yapping too much, first things first: Simo did >90% of the demo, just need to clarify that!
Okay, to continue… I did get confronted with some facts of life in that I am not an artistic person! With code as a starting point, it's hard for me to come up with something that looks good. Feels like a wall in my brain that's preventing me to go that way. Typically, I work the other way around and try to turn "looks" into code (like references from real life). With the abstract beauty of many demos, it had me cursing plenty of times. Luckily, Simo was able to adapt my pieces and make them look good, so I'm very proud of the end result!

From the technical side of things, here's what I did: normal mapping on dynamic models (procedural of course), projection+shadow mapping, and marching cubes (metaballs and, I dunno, some weird tunnely thing). The metaballs are slightly tongue in cheek, and I consider them an homage to the "metaball guy". I'll probably get back to some of the effects in future blog posts, so I won't delve into any detail right now. Most of them were done using Away3D Lite, preferring it over the main engine because it's so lightweight/fast and darn easy to hack and extend. For me, it makes an excellent playground!
The demo itself was built upon the evoTinyEngine demo framework, which made it very easy to collaborate, sync, and hook effects into the main demo.
In closing
Obviously, many thanks to Simo for giving me the opportunity to join in! Too bad I couldn't be there in person, but there were some other things I was up to during the weekend. Time to recover

Enjoy the demo!